2019 International Champions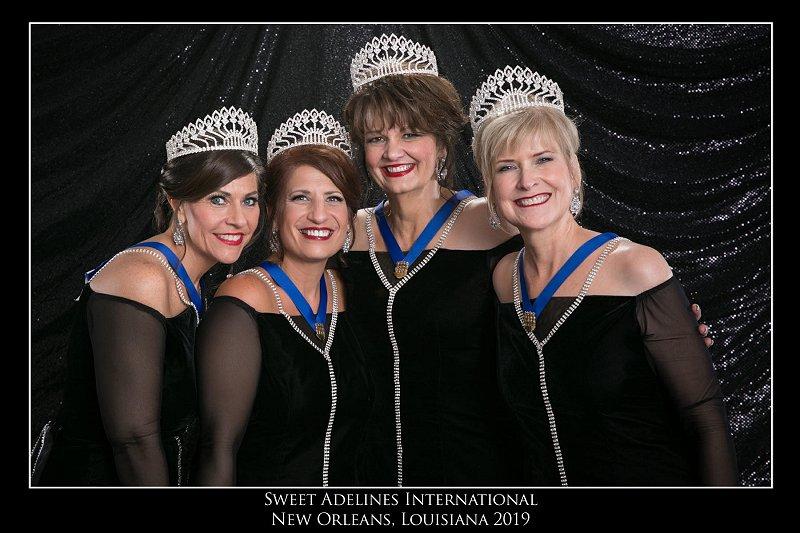 Past International Champions
Click on Quartet pictures for link to individual Quartet websites, (not available for all quartets).
* = Denotes Region 9 members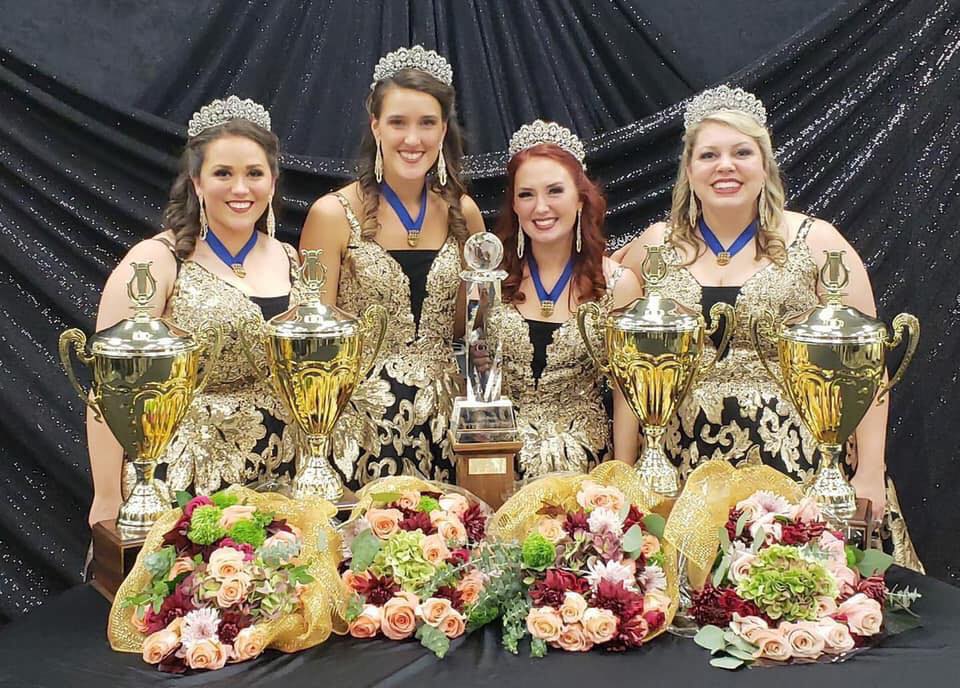 Class Ring
Mary Duncan- Baritone
Heather Havens- Lead
Hailey Parks- Bass
Michaela Johnston- Tenor (Region 9)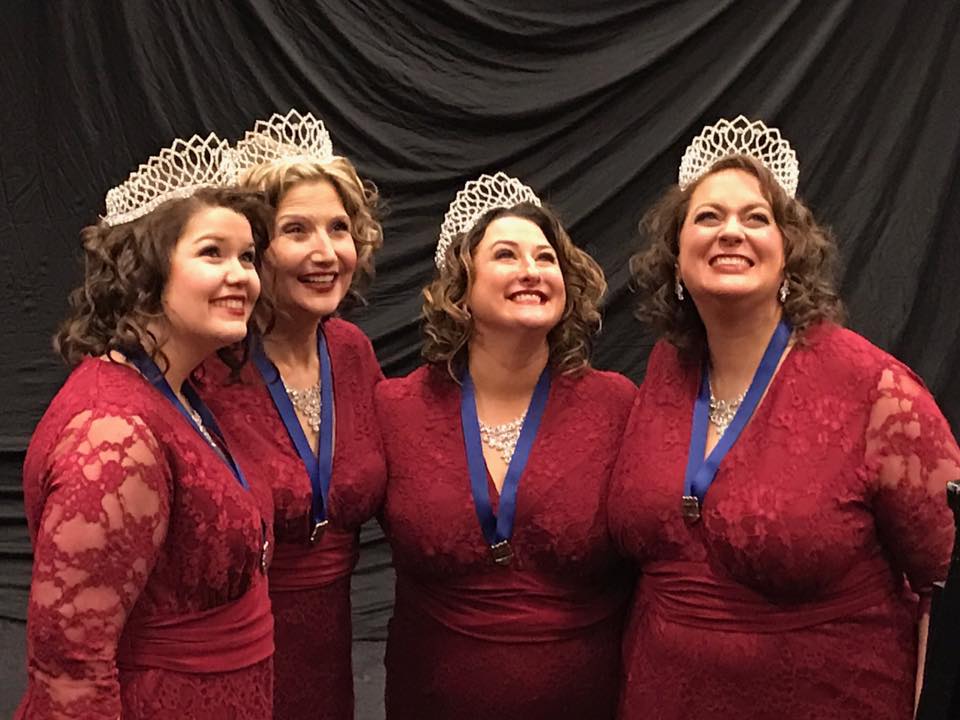 Frenzy
Melissa Pope, Tenor (former Region 9 member)
Nikki Blackmer, Lead
Anne Downton, Bari
Judy Posgay, Bass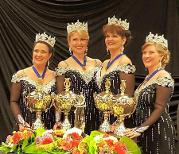 Speed of Sound

Debbie Landers, Tenor
Ashley Wright, Lead
Peggy Jones, Bass**
Carter Maysilles, Baritone*

** Replaced by Kim McCormick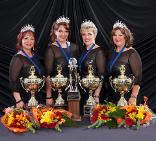 Bling

(Representing Region 9)

Dayve Gabbard-Farnham, Tenor

Angie Love-Calahan, Lead

Kim Elger-Griffin, Bass

Deanna "DeeDee" Kastler, Baritone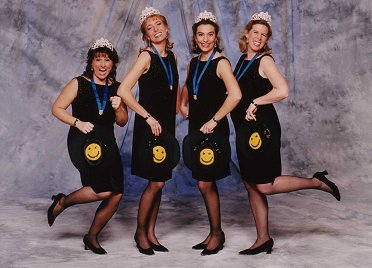 Swinglish Mix

(Representing Regions 4, 9, 11 & 32)
Eleanor Hawkins, Tenor

Suzanne (Frolen) Harrington, Lead
Patricia Hawley-Pennycook, Baritone
*Naima Meyer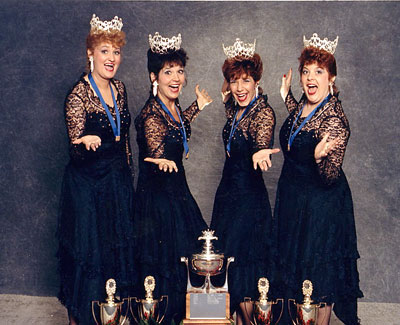 Showtime
(Representing Region 9)
*Gina Ogden, Tenor**
*Debbie Cleveland, Lead
*Cindy LeMasters, Baritone
*Dana Johnson, Bass

**Donna Rose replaced Gina Ogden.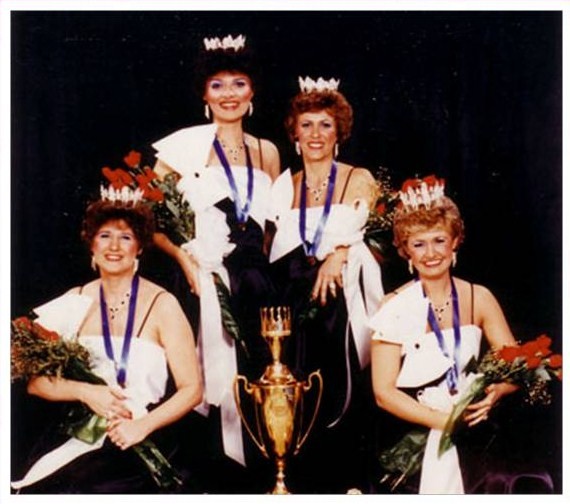 Jubilation

(Representing Region 3)
Sharon Alterman, Tenor
*CarolAnn Bagley, Lead
*Karen Breidert, Baritone
Patricia Rotunno, Bass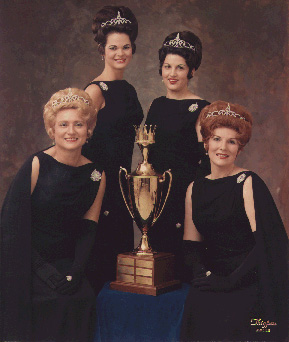 The Brons Tones

(Representing Region 9)
Judy Wood,

Portia (Bolton) Little,
*Betty (Luckett) Meinholz, Bass

Bron Dixon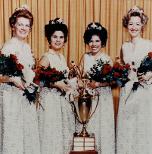 The Rarities

(Representing Region 6)

Jarmella Speta, Tenor

Connie (Garcia) Milestone, Lead

Chris (Martinez) Huebschen, Baritone

Carol Schoening, Bass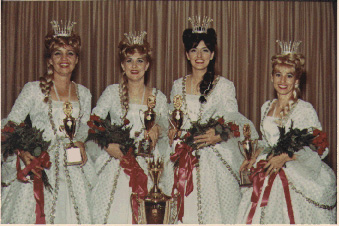 Hurricane Honeys

(Representing Region 9)
*Nancy Calay, Tenor**
*Iris Cokeroft, Lead
Ruth Ann Parker, Baritone
*Marge Grau, Bass
**Toni Miller replaced the original Tenor, Nancy Caley, in 1991

Click link to download a PDF version of the International Competition Historical Data. Includes International competition dates, years, Locations, Chorus Champions Harmony Achievement Winners, Most Entertaining Chorus; Quartet Champions, Most Entertaining Quartets and Novice Quartet winners.