Region 9 Quartets Competing at International
Prior to "Qualifying" or Winning at the Regional Level
Prior to having "Wild Card" quartets and rules for competing at International, many Regional Quartets competed at the International level without winning at the regional level. This page is dedicated to the Region 9 Quartets that competed at International without having won at the regional level. Years are un-clear. If anyone has more information, please contact Sue Giesler at tophatclub@att.net with details so this page can be updated. Thank you!

Names in Bold Royal Purple type are Top Hat Club members.
An asterisk (*) indicates Region 9 Members in each quartet.
Click on individual pictures to navigate to quartet websites.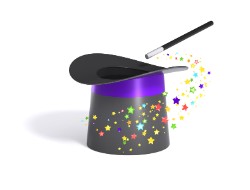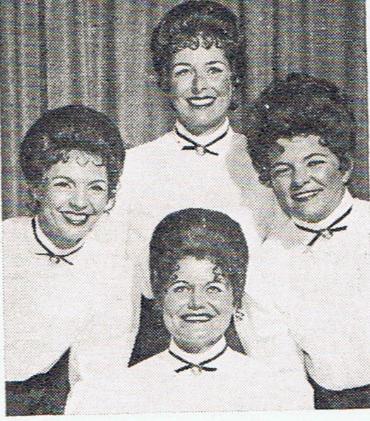 Honey Bee Naturals
Charlotte, NC
Region 9 2nd Place Quartet
Nancy Lippard, Barbara West, Loretta Duncan, Alice Guy
===================================================================================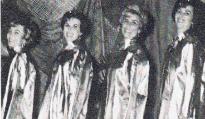 Charlottones
Charlotte, NC
Region 9 2nd Place Quartet
Toni Frink, Mary K. Coffman, Sally Ferguson, Joan Egen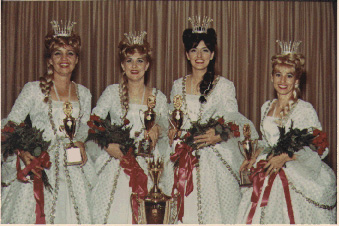 Hurricane Honeys

Miami, FL

Region 9 2nd Place Quartet ???
INTERNATIONAL CHAMPIONS 1967
*Nancy Calay / *Toni (Mitchell) Miller, *Iris Cokeroft, Ruth Ann (Strang Wilson) Parker, *Marge Grau
Note: *Toni Miller replaced the original tenor, *Nancy Calay, in 1991 enabling the quartet to begin performing again after a period of inactivity.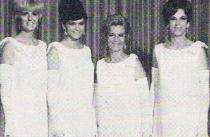 Note Worthies
Orlando, FL
Region 9 3rd Place Quartet
Dot Zerkle, Tenor; Judy (Wright) Ogden, Lead; Edith Pfau, Baritone; Ann Nicoley, Bass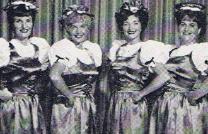 Coquina Chords
Daytona Beach, FL
Region 9 4th Place Quartet
Frances Hart, Tenor; Jean Tanny, Lead; Georgia Ecret, Baritone; Betty Bond, Bass
===================================================================================

All International-bound competing quartets on this page, (including Wild Card Quartets and quartets that won in another region with a Region 9 quartet member), received a portion of the proceeds from our 2011 Annual
Thursday Night Live!
Show. A portion of the show proceeds are also distributed to the
Young Women In Harmony
Youth Festivals
every year.
Note: Sweet Adelines International's regional competitions are held each year in March-May time frame, and international competition is held each year in late September, October or early November. In 1993, the Sweet Adelines International and Coronet Club (organization of champion quartets) boards of directors agreed that the international quartet and chorus champions are more aptly designated by the calendar year during which they primarily hold their titles rather than the year in which they win their titles. Thus, there are no "1993 International Champions." The quartet (Showtime) and chorus that won in 1993 were designated "1994 International Champions," and all subsequent international champions have titles following the new system.